Ep.37 – The Virus, The Experts And The Social Experiment
10 months ago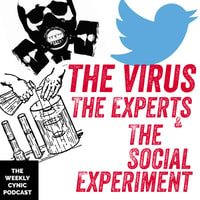 Over The Last Few Weeks, As The Covid19 Outbreak Has Expanded, Our Social Media Experts, All Those Twitter Blue-Check-Marks, Have Been Retweeting, Ranting & Raving With Each Other, Blue Collar Schmucks And Even Bots.
They've Created Their Own Universe Of Mis-Information In Pursuit Of Burnishing Their Halos & Credentials.
Also, We Dive Into The Social Aspects Of The Covid19 Outbreak: #MeToo Movement/Social Distancing Effects On The Human Heart & Mind, The Surveillance State, Universal Basic Income, Climate Change, The Obliterated Job Market, The Future Of Work, Essential Work & Workers, Corporate Consolidation, Automation, Artificial Intelligence, Your Vaccine Microchip And The Internet Of Things.
A Snarky, Sarcastic, Conspiratorial, Brutally Honest, And At Times, LOUD Conversation Ensues.
Where To Subscribe: [https://www.theweeklycynic.com/the-weekly-cynic-podcast]
Other Podcast Apps: [https://plinkhq.com/i/1347441776?to=page]
Sign-Up For The Scoffs & Smirks Newsletter: [https://theweeklycynic.substack.com/about]
Help Support The Weekly Cynic: [https://www.theweeklycynic.com/donate]
Musical Intro: Poppers and Prosecco Kevin MacLeod (incompetech.com) Licensed under Creative Commons: By Attribution 3.0 License http://creativecommons.org/licenses/by/3.0/
Segue Music: Crinoline Dreams by Kevin MacLeod Link: https://incompetech.filmmusic.io/song/3560-crinoline-dreams License: http://creativecommons.org/licenses/by/4.0/
Works Cited:
https://twitter.com/ianbremmer/status/1240311248866004997
https://nypost.com/2020/03/19/amazon-looking-to-buy-four-fairway-stores/
https://www.inquirer.com/health/coronavirus/spl/pennsylvania-new-jersey-unemployment-surge-coronavirus-20200319.html
https://www.bloomberg.com/news/articles/2020-03-17/wall-street-s-new-virtual-workplace-may-far-outlast-the-virus
https://www.pewresearch.org/fact-tank/2020/03/20/before-the-coronavirus-telework-was-an-optional-benefit-mostly-for-the-affluent-few/?utm_source=pew+research+center&utm_campaign=9326b276aa-email_campaign_2020_03_20_01_03&utm_medium=email&utm_term=0_3e953b9b70-9326b276aa-400757261
https://www.scmp.com/tech/e-commerce/article/3051597/chinas-e-commerce-giants-deploy-robots-deliver-orders-amid
https://roboticsandautomationnews.com/2020/02/22/china-buys-danish-robots-to-fight-coronavirus/30315/
https://onezero.medium.com/coronavirus-is-speeding-up-the-amazonification-of-the-planet-21cb20d16372
https://www.nytimes.com/2020/03/16/world/middleeast/israel-coronavirus-cellphone-tracking.html
https://www.dailymail.co.uk/sciencetech/article-8131363/Apps-alert-users-children-cross-paths-people-infected-coronavirus.html
https://twitter.com/BBCWorld/status/1239267152546467843?ref_src=twsrc%5Etfw%7Ctwcamp%5Etweetembed%7Ctwterm%5E1239267152546467843&ref_url=https%3A%2F%2Fwww.zerohedge.com%2Ftechnology%2Fspanish-police-are-using-drones-yell-those-disobeying-quarantine
https://www.thelocal.dk/20200313/denmark-passes-far-reaching-emergency-coronavirus-law
https://techcrunch.com/2020/03/18/bill-gates-addresses-coronavirus-fears-and-hopes-in-ama/amp/?__twitter_impression=true
Support The Weekly Cynic by donating to their Tip Jar: https://tips.pinecast.com/jar/the-weekly-cynic
Find out more at https://the-weekly-cynic.pinecast.co